Our Malaysian calendar is filled with a diverse array of holidays from every race and culture, and of course we love our many public holidays throughout the year. 
But do you always take time to understand the meaning & significance underlying these celebrations? If you don't, then come on la bro, mana you punya 1 Malaysia spirit? That's why we've put together a list of things that you (maybe) never knew before about Thaipusam.
1. What does Thaipusam actually mean?
Thaipusam actually derives from two words: "Thai", meaning the 10th month in the Tamil calendar; and "pusam", which translates to "when the star is at its brightest".
2. When is it usually celebrated?
The full moon day in "Thai", which usually lands in late January or early February.
3. Who celebrates Thaipusam?
Thaipusam is celebrated where there are significant populations of Tamil Hindus, such as India, Malaysia, Singapore, Sri Lanka, as well as parts of the Caribbean including Jamaica, Trinidad and Tobago and Mauritius. Surprisingly, one of the largest Thaipusam celebrations in the world actually happens in Batu Caves, Malaysia (not India!), attracting over a million devotees and thousands of visitors each year.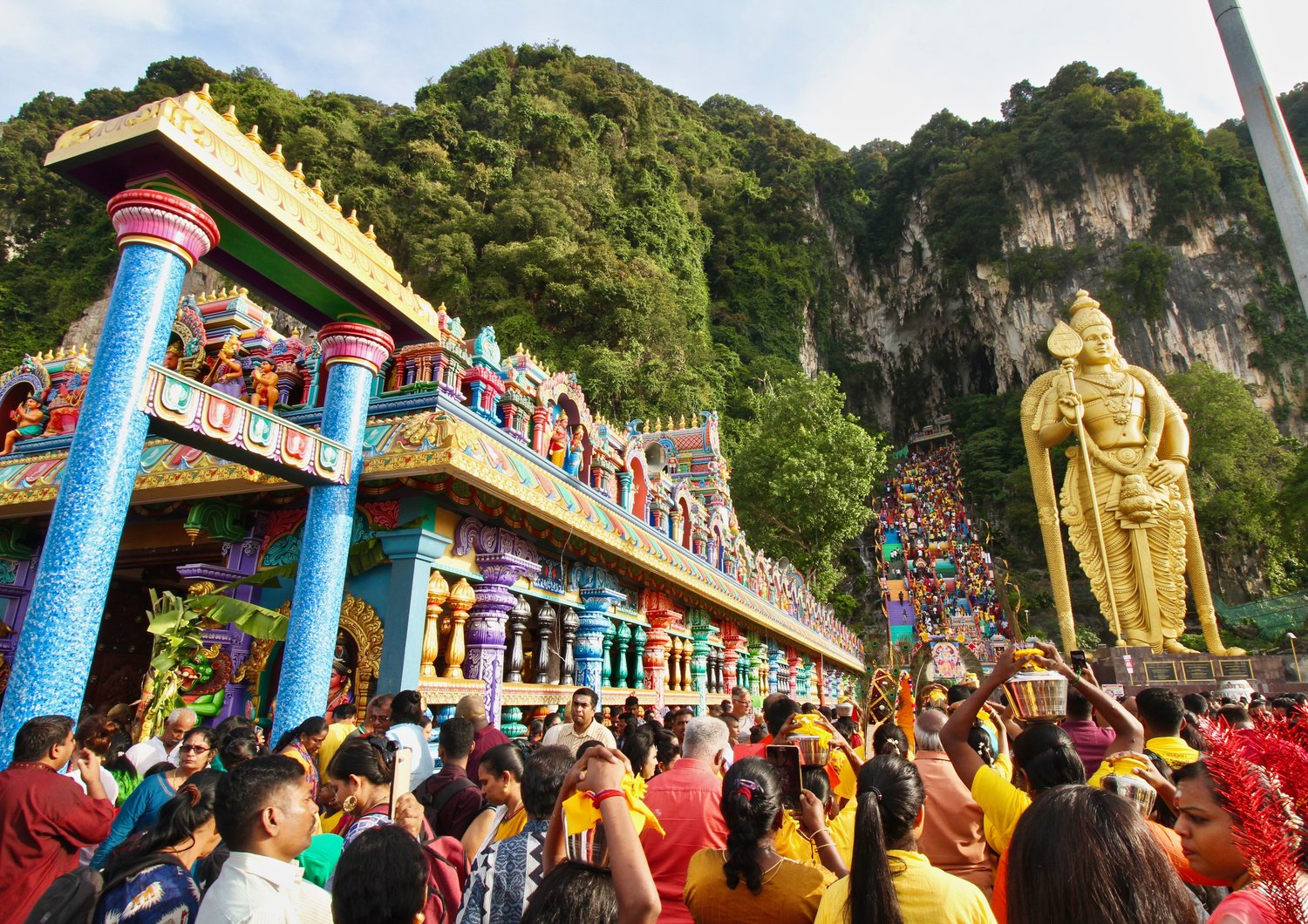 For a more in-depth read on the Thaipusam pilgrimage at Batu Caves, check out this article: https://www.aljazeera.com/indepth/inpictures/malaysia-hindus-celebrate-thaipusam-batu-caves-180201073614358.html.
4. Why do people celebrate Thaipusam? What's the story behind it? 
Thaipusam is a festival where Hindu believers show their appreciation to one of their gods, Murugan, the son of Lord Shiva. Hindus believe that Murugan is the protector god of the Tamils, a dispenser of favours. The festival is a time for prayers and penance, with devotees pledging vows and undergoing self-mortification as a sign of gratitude and to implore for help for their prayers to be granted.
Legend has it that Lord Shiva sent Murugan to help devotees who were being plagued by asura (demons). Parvati the Hindu Mother Goddess (note that the Malay term Ibu Pertiwi has its roots in this) gave Murugan a vel or spear so that he could destroy the evil demon Soorapadman. Murugan emerged triumphant, appearing before devotees holding a golden spear and seated on a silver chariot.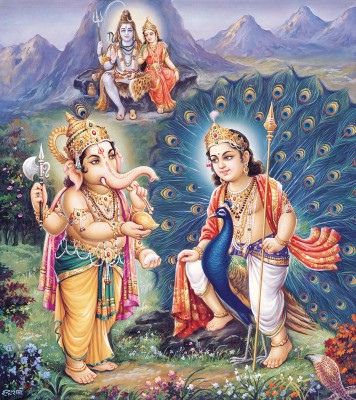 Today, devotees place the god's image, adorned with flowers, on a chariot, which is borne around on a procession. The popular chanting for Thaipusam is "Murugan'ku arogara!" received with a thunderous "vel vel vetri vel". The chant means Murugan has received an "anugerah" an award which is the "vel, the victorious vel". 
Another iconic thing that you see a lot in Thaipusam celebrations, is men carrying elaborate structures. Ever wonder what those are called?
5. What is a kavadi?
A kavadi is made of two semi-circular pieces of wood or steel, which are bent and attached to a cross structure that will then be balanced on the shoulders of the devotee. Kavadi bearers are usually male.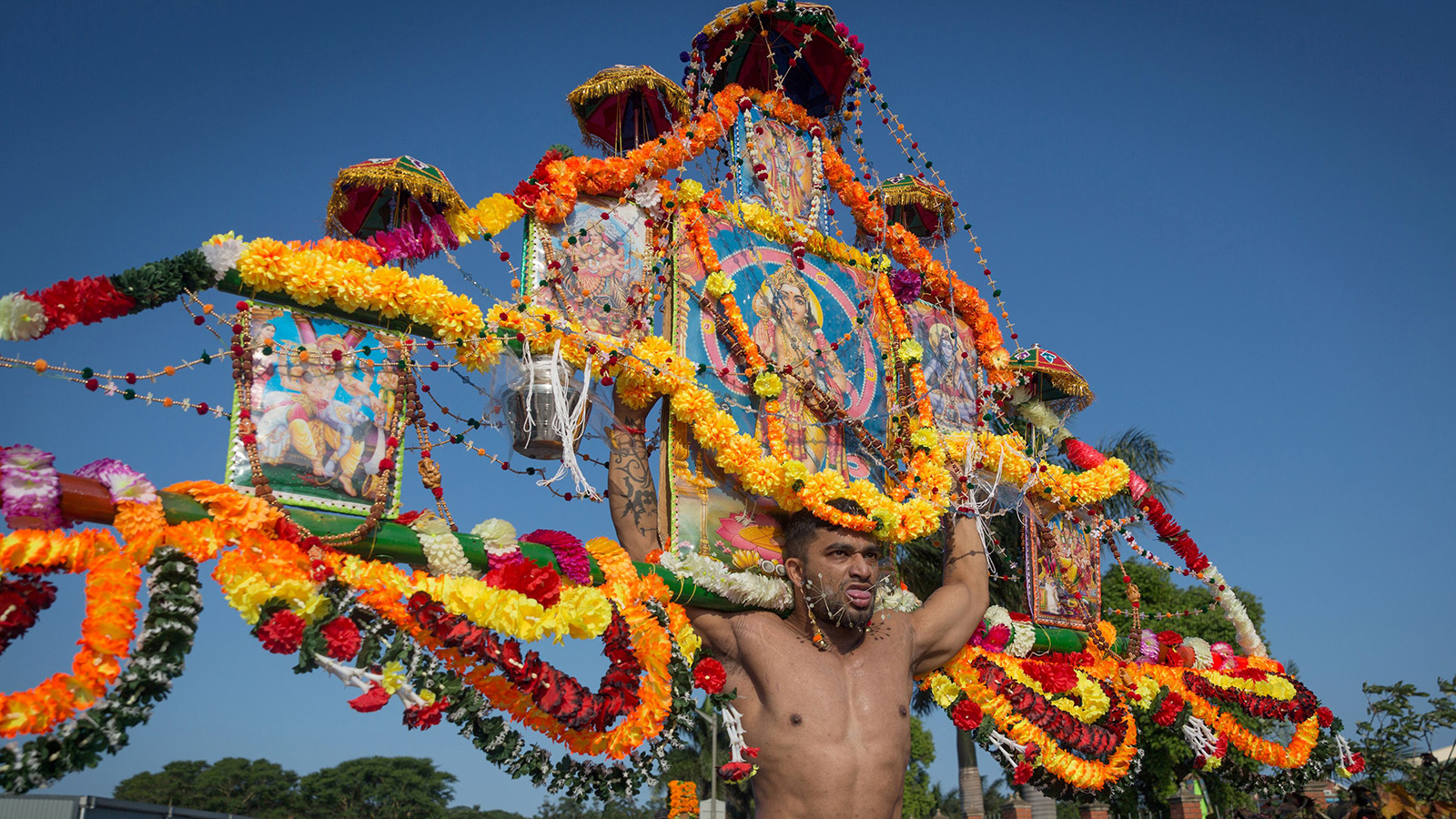 6. What is the significance of peacock feathers? 
Peacock feathers are used to decorate kavadis because as per myth, they are Murugan's vehicle.
7. If kavadi are normally carried by men, what do women carry?
Female devotees often carry silver milk pots called paal kudam.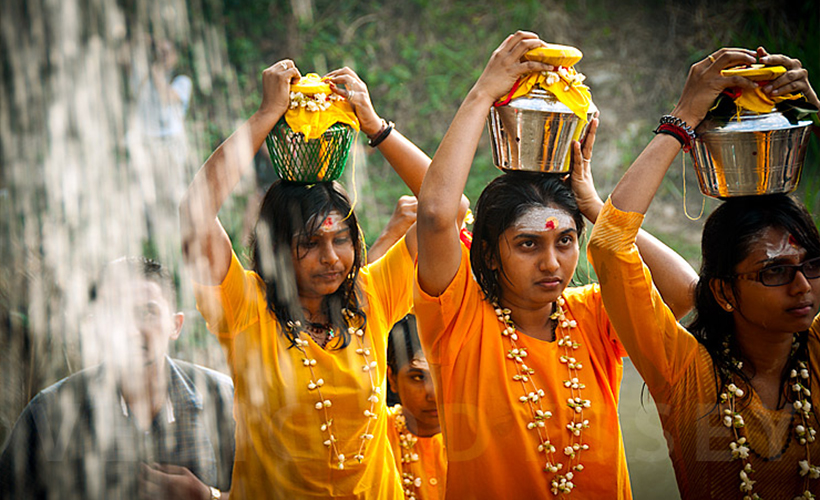 8. What else do people do to celebrate Thaipusam?
The tongue & cheeks can be pierced by 2 symbolic skewers to show that a pilgrim sacrifices the gift of speech. Many devotees prepare themselves for 48 days and fast from food for at least 24 hours prior to the festival. 
Sources:
https://raaga.my/trending/hot-stuff/facts-about-thaipusam
https://wma.my/human-nature/8-short-and-interesting-fact-you-should-know-about-thaipusam/
https://www.goingplacesmagazine.com/6-things-you-didnt-know-about-thaipusam/