Find out more about the history that surrounds 54C.
Where do you come from?
What do you do?
How did you get here?
Like any newbie, these were the questions I faced when I joined YTL just over a month ago. Questions arising out of a wholly human desire to find out who I was, what my interests were and how I fit into the whole tapestry of the conglomerate we refer to simply as "YTL".
Well, lets take a step back and let me ask you this question – where do we, the YTL Group, come from? Back in the days of colonial rule, what were we like then? How far have we evolved since?
Have you even heard of 54C?
I must confess – I hadn't.
Then in my second week here, I was told to write an article on the history and origins of the building known as 54C.
What? I'm not an architectural student. And who wants to read an article about a building when there are Pokemon to catch outside?!
Nevertheless as I began conducting my many interviews, it quickly became clear that this would not be some boring story about a building. It would be a collection of memories about the building that began it all, and how one family and a handful of staff grew a business that would eventually span multiple industries, jurisdictions and time zones.
54C was ground zero.
This article is a nod towards those good old times, and the hope that while most of us may never work or see the insides of 54C, we leave with a better understanding of where we came from and how those early days in the upper floor of a little shop lot along Jalan Bukit Bintang continues to shape us and the corporate values we uphold till this day.
Our Origins
Prior to 54C, the headquarters of Syarikat Pembenaan Yeoh Tiong Lay ("SPYTL") was located at 96, Jalan Dato' Keramat in Kuala Selangor – the hometown of our eponymous founder and Chairman, Tan Sri Dato' Seri Yeoh Tiong Lay. This location was not ideal, as many projects and clients were based all over the country. This necessitated multiple business trips between Kuala Selangor and Kuala Lumpur. Coupled with rudimentary telecommunication facilities, this also meant that the company often lost contact with important clients and missed many business opportunities.
In 1967, an opportunity arose for the company to rent the top floor of a shop lot in Bukit Bintang, which was the heart and soul of Kuala Lumpur even back then. Although rental prices were at their peak, the Chairman decided to rent the place we now call 54C before purchasing it a year later in 1968.
Once acquired, 54C was converted into a modern Soho concept, with the office located at the front and a small apartment (comprising of a lounge and bedroom) at the back. This was YTL's first property acquisition in Bukit Bintang.
Living in the Red Light District
In the late 1960s, our Managing Director, Tan Sri Francis Yeoh, and his primary and secondary schoolmate, Lee Eng Wah (now Project Director of SPYTL), moved to Kuala Lumpur to pursue their Form 4 studies – Tan Sri Francis in Victoria Institution and Eng Wah in Methodist Boys School. After spending 5 to 6 months in a hostel, Tan Sri Francis moved into the 54C apartment and Eng Wah joined him as a flat mate.
Victoria Institution 1954
Speaking to Eng Wah, it became clear that Bukit Bintang was a rather different scene back in the 1970s. As Eng Wah eloquently puts it, "We were put into this place that was in the middle of the red light district. At the back was Jalan Alor. The front was the main Bukit Bintang Street. It was not the most conducive place for studying but rather exciting for two school boys from Kuala Selangor! However, the room was good as it was quite isolated."
Bukit Bintang was a real entertainment-turned-red light district. Prostitutes strolled or occupied coffee shops during the day and at night, and many dubious activities occurred in the buildings beside and around 54C.
Across 54C was a place called the "BB Park", where the Bukit Bintang Plaza is now located. It was an amusement centre that often drew a varied crowd, and had a merry-go-round, strip club, dance club, bowling alley and cinema.
Eng Wah shares some insights into life then:
The dance club? It was where all the ladies were. Though they were below the qualifying age, no one cared so long as they paid the entrance fee. In those days, you could buy a ticket for one of the dance girls to dance with you if you did not have a date!
Bowling? It epitomized the high life back then and was also where all the "hot girls" could be found. It was not uncommon for them to spend their entire monthly allowance in the first week, before living on the basics for the rest of the month!
Restaurants were also the places to go to taste the high life. However, being poor students, they often had to wait for the Chairman and the Chairman's spouse, Puan Sri Datin Seri Tan Kai Yong, to come to town to bring them for that taste. Otherwise, they would eat in school or the packed food that was left for them at 54C (no cooking was ever done within 54C).
Two large cinemas, Cathay and Pavilion, used to be located at the junction between Jalan Pudu and Jalan Bukit Bintang. All the best films were featured there. Tan Sri Francis and Eng Wah used to walk past these cinemas every day after school and sneak into the cinemas to enjoy the air-conditioning (after offering a little incentive to the guard)!
As for school? They would walk to school or be given a ride by the Chairman's driver if he was in town. However, Tan Sri Francis would also occasionally take the taxi if he was late!
This life lasted for around two years before the Chairman moved the family, and Eng Wah to the house in Section 16. Tan Sri Francis and Eng Wah left for England to pursue their tertiary education soon after in 1974.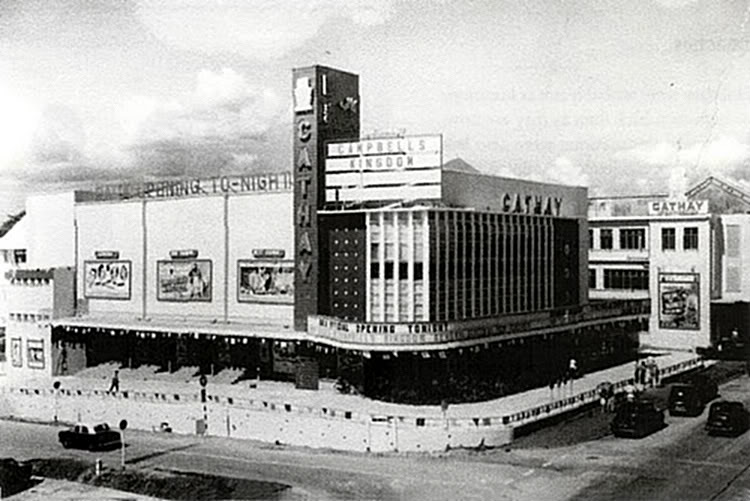 Cathay Cinema, Bukit Bintang
The 1970s
The office was growing steadily in terms of business and staff (the initial staff headcount numbered around 10). Puan Sri was still a teacher in Kuala Selangor and often travelled back and forth daily for the first few years. She would drop by the office and knew everyone and everything that was going on. Every day, the Chairman would also gather everyone for drinks or a meal at a nearby coffee shop. One big table was enough to fit them all. They were like a close-knit family.
In 1973, the oil crisis brought about an economic slowdown and was a very difficult time for the company, which they pulled through together.
Then in 1978, Tan Sri Francis graduated and returned to eventually take over as the Managing Director of the company. As 54C became too crowded, the company started to rent the first floor of the building (54A) – this would be where Tan Sri Francis had his first office.
Everyone wore multiple hats. Yee Yuen Chin or Miss Yee as she is more commonly known (now the Head of Admin and Human Resources of SPYTL), did all the clerical and under-secretarial work. She recalled how everything used to require a typewriter and the painful thing was that if you made a single mistake, you had to retype the entire page. This was particularly applicable for agreements, which did not allow any type backs.
"You must be very skilled with your fingers and have gone through a typing course. We used dictation, shorthand and tape recorders during meetings to play back later. Not like now, everything is so easy. Back then, typing and shorthand skills were vital." – Miss Yee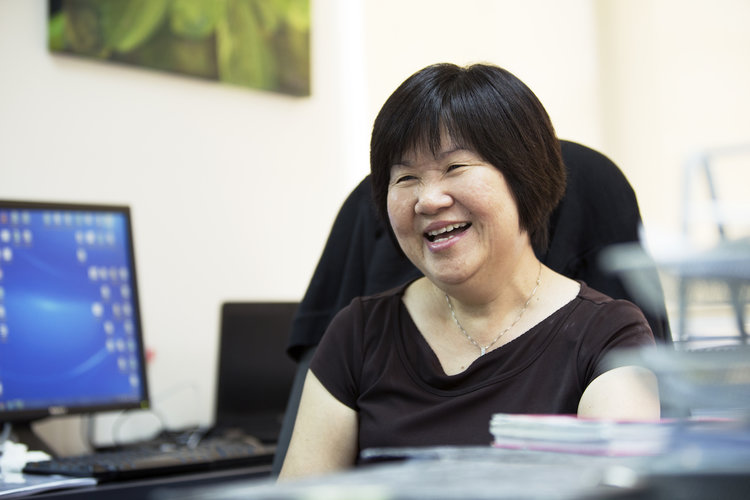 Miss Yee also recalled of the crazy hours required. Every morning, the Chairman would make site visits before arriving at the office. When they were doing tender submissions, she would often stay back past midnight waiting for the bosses to finish their discussions. Once they returned, they would stay till the early hours of the morning typing and photocopying numerous volumes of documents for their submissions. These tender preparations would last for months at a time.
One particular tender submission stands out for Miss Yee:
"It was the second day of the Chinese New Year. We went back to work because the tender needed to be submitted on the 6th or 7th day of the New Year. So we worked late before the New Year, took New Year's Day off, and went back to work on the second day."
Hard work and vitality, anyone?
Jerry Lim, now Director of SPYTL, recalls of the huge calculator and large amounts of paper he used to consume while making his calculations. He was even told off by the Chairman's then admin manager for using so much paper! They were taking on many projects and had long meetings to decide on tender prices, how they would win the tenders and ultimately get the job done. When asked about what those early days in the office meant to him, Jerry related that:
"It was the one place where the company grew leaps and bounds. When the bosses came back, they were all very young, with lots of enthusiasm and energy, and worked very hard… The good old days."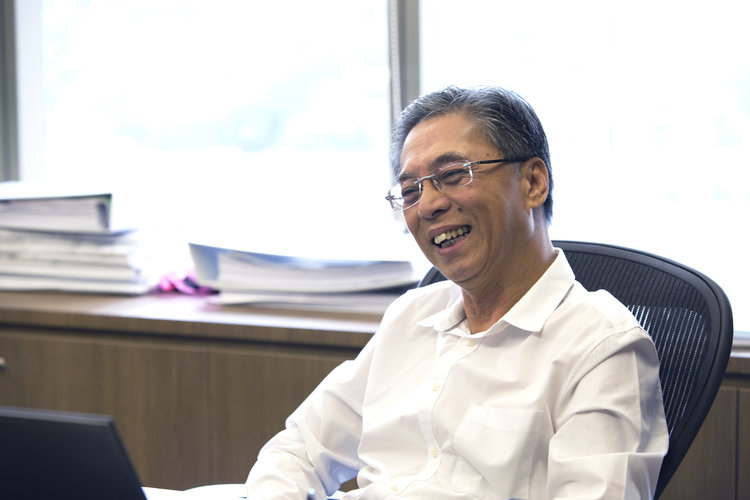 And all this time, the company kept growing. The current generation of leaders, who used to follow their father and elder siblings around in the office in their school uniforms, were completing their studies and returning to take their place in the company. Much like what the next generation of Yeohs are now doing.
The Era of Expansion
Entering into the 1980s, 54C and 54A were struggling to accommodate all the existing employees. Coincidentally, the land where the Yeoh Tiong Lay Plaza ("YTL Plaza") now stands went up for sale in 1980. Puan Sri was the first to recognize the opportunity and persuaded a reluctant Chairman to purchase the land, despite it being sold at double the market value. She strongly believed that a building like the YTL Plaza would position YTL as an established construction company. After spending years working in a crowded little office to build high-rise buildings for others, the Chairman too believed that it was time to construct a high-rise office block for the company.
The four dilapidated shop houses located at No.55 – 61, Jalan Bukit Bintang were thus bought and quickly demolished to construct the new 12-storey YTL Plaza.
1984 was the year that Eng Wah returned to join the company. He recalls that it had been a quiet little office when he left, but was now a lot livelier and bustling with activities. As the existing offices at 54C and 54A were overcrowded, YTL employees were fragmented and placed in Menara ING and the Hong Kong and Shanghai Banking Corporation Building on Bukit Bintang. Eng Wah was based in the latter.
In 1988, the YTL Plaza was completed and everyone was brought back together under one roof. When it was time to move, everyone literally carried their own tables and chairs across the road into the new headquarters. Unfortunately this physical togetherness did not last for long as the company continued growing rapidly and YTL employees again found themselves being shifted to offices outside of YTL Plaza.
Now, it is hoped that the new 40-storey YTL headquarters along Jalan Yap Tai Chi, once completed, will bring everyone back together again physically and foster the sense of togetherness that remains an intrinsic part of the YTL DNA.
The Spillover Center
As for 54C? With the opening of YTL Plaza, 54C was left practically empty and functioned as a spillover center. If you did not fit into the new headquarters, you would be in 54C. Over the years, 54C would see many YTL departments and subsidiaries shift in and out.
For awhile, the contracting and engineering departments were based in 54C. The bar bending department, which calculates and optimises the amount of steel bars required for the many construction projects, were also based in 54C before being replaced by the insurance department. Part of SPYTL was also located there before before the opening of the One Oriental Place. YTL Corporation Bhd and YTL Cement also once had their offices in 54C. And for a time, one part of 54C was converted to house a library, which proved unpopular among the staff and was soon replaced.
YTL Learning Space
Last November, in conjunction with YTL's 60th Anniversary, 54C was converted into a community learning space and officially opened in December 2015. At the opening ceremony, the Chairman spoke of how the company wanted to give something back to the community that the company had grown from. It felt appropriate to use 54C to serve the children of the many YTL employees and the Bukit Bintang community, through the running of after school programmes and fun activities.
One programme being run at the centre is the training of teachers in community schools. Benjamin and Dim Saan are two Myanmarese refugees who recently completed the teachers training course at the YTL Learning Space. Both were among the handful of students sent by the principal of Ruth Education Center, a community school, to obtain the skills necessary to become teachers. Benjamin in particular spoke of their first visit to 54C, when a friend had asked him whether it was a place for refugees. His immediate response had been that "this isn't for refugees as all the things are very nice and we don't deserve to come here".
When asked about his reaction when he found out about the teachers training center, he said, "I can't believe we have a chance to come here. All the stuff and facilities… It is unbelievable. We don't deserve all these things."
And yet, they are precisely the people that 54C is meant for.
Benjamin and Dim Saan have now graduated from the teachers training center and are teaching in other community centers in Kuala Lumpur. A new batch of students is being trained under the guidance of the Centre Manager, Ann Lee.
While the people that now walk through the doors of 54C differ greatly from the good old days, they too are forming many memories in 54C while learning through the Frog Virtual Learning Environment, board games, arts and music.
As Nelson Mandela once said, "Education is the most powerful weapon which you can use to change the world."
Who knows what impact 54C will have on the Bukit Bintang community in the coming years?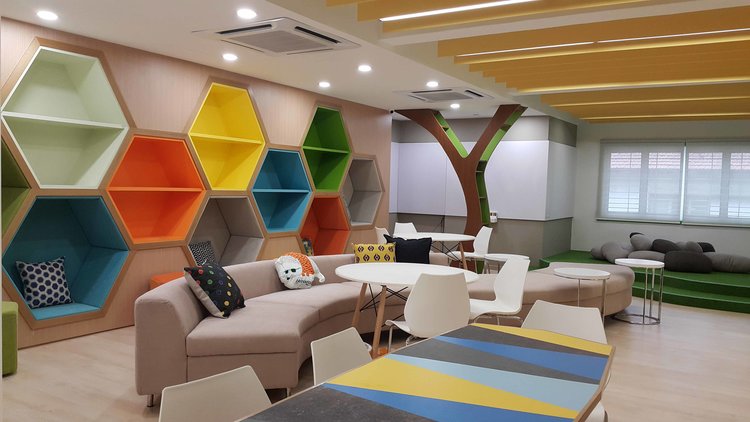 What is 54C to you?
As for those who once lived and worked at 54C, 54C equals nostalgia. For Eng Wah, it is "a recollection of a lot of memories of my school days in Form 4 and 5." For Miss Yee, it is "a place of memories where our office started… very good memories. We knew each other very well, we didn't have to send any memos or emails."
And as for our Chairman, he remembers 54C with fondness, as it was in there that he began his business in Kuala Lumpur with passion and tenacity. It was there too that he and his team overcame many challenges to bring YTL to where it is today. While he used to visit the office once in awhile, these days he finds it a little too tough to climb up 4 flights of stairs!
Now
It has been 49 years since we first marked 54C as our own. 54C has gone from being the living quarters cum ground zero of the future YTL Group, to a temporary holding center and now, a learning community center.
Bukit Bintang too has changed drastically and is now decidedly less "dodgy", thanks in no small part to the YTL Group. We once owned just the top floor of a tiny shop lot along Jalan Bukit Bintang. Now, a quarter of Bukit Bintang falls under the YTL Group including the iconic Bintang Walk, the brainchild of Tan Sri Francis. Soon, the new YTL headquarters will be unveiled and house a conglomerate that is over 11,000 employees strong.
Not too shabby for a small construction company from Kuala Selangor?
This article would not have been possible without the help of the following:
Tan Sri Dato' Seri Yeoh Tiong Lay
Datin Kathleen Chew
Ann Chii Yuann Lee
Benjamin
Dim Saan
Eng Wah Lee
Hwei Tan
Ho Say Keng
Jenny Yeoh
Jerry Lim Khoo Hai
Karen Cheong
Rebekah Yeoh
Tsen Yeoh
Yuen Chin Yee