by Wong Ling Yah
It's been over a month since I was last home and I'm still not back! 
While the world has been on literal lockdown, our days have consisted of everything from being caught in snow blizzards to being stuck in lockdown in Kathmandu and now, a little room in a Malaysian quarantine center. 
STUCK IN KATHMANDU
The last time I wrote, we had just succeeded in getting back the second half of our team from Lukla.
Once the team was reunited, the remainder of the time was spent contacting societies and groups on methods and sponsorships for flying home. The Malaysian embassy visited each and every Malaysian stuck in Kathmandu, explaining that with the lockdown and a non-functioning airport, there were many procedures to get through and approvals to be obtained. The only planes being allowed to fly were those struck between our governments and beyond us. 
Meanwhile, I discovered that a fellow Dutch guest in my hotel worked at the Kathmandu Airport. He kept us updated on the latest comings and goings at the airport. Of the Qatar flight plane that had come to take the Germans home. And to our disbelief, of a MAS plane that was bringing the Dutch people out of Kathmandu to Kuala Lumpur then onwards to the Netherlands (with no Malaysians on board!).
In the meanwhile, I got to know the locals who worked on the hotel staff better. Some of the sweetest, most considerate people I have ever met. And it was an eye-opener, seeing how Nepal's lockdown was affecting its people. 
The locals – at least those who understood and knew of the lockdown – approved of the lockdown. They knew that Nepal did not have the testings nor facilities to help its people. They were also terrified, staying firmly indoors despite the majority of the people being daily wage earners. They were bored. Many of them did not have phones, let alone smartphones. 
In addition, a great many locals were illiterate and that was where the concern laid: that while announcements had gone out to stay indoors and not move around, it didn't mean that everyone even understood the order or the significance of social distancing or maintaining strict hygiene levels. And with its people so widely spread out across the country, including the nomadic Raute tribe, clusters could already be forming without the government being aware. 
FLYING HOME
After almost two weeks in Kathmandu, the Malaysian embassy finally alerted us to a specially chartered rescue plane that had been arranged for us on April 4th. The flight was arranged for 1pm but we were to be at the airport by 10am. 
Leaving was hard. It had grown attached to the people whose faces I saw every day. The food, which was healthy, fresh and varied. The breathtaking views of the valley of Kathmandu, the sunset setting behind the shadows of its surrounding hills. The weather –  sunny & hot during the day, cool and breezy come night time. 
When April 4th came, I followed my fellow Dutch guest friend to the airport. His vehicle had a specially-issued permit that allowed them to travel around Kathmandu while everyone else stayed indoors. A permit that had to be renewed every week.
The streets were strangely quiet. One or two locals scurrying down the streets with their groceries, dogs loitering around corners. And pockets of policemen that lingered outside closed shops, many more manning road blocks.
All that changed when I arrived at the airport, which seethed with people. Once everyone had arrived, the embassy led us inside for our check-in. We lined up, handed over our passports and were immediately issued a boarding pass. Funnily enough, we passed by two souvenir shops that were open – I suppose they're considered essential services – before entering the departure lounge.
There were only three flights scheduled to that day, all of them chartered. 
Everything about the flight home felt both familiar yet utterly surreal. We had to wear masks and were told onboard to always have it on where possible. There was an inordinate amount of health warnings given by the pilots. Our seats had a large plastic bag containing inter alia a milo packet and Maggie Mee Curry cup for our lunch. The air stewardess could only serve hot water to us. We were told of the incoming health check and quarantine period upon arrival. And no one was allowed to sit next to each other for 'social distancing' purposes. We were either on a window or an aisle seat. 
And the sky!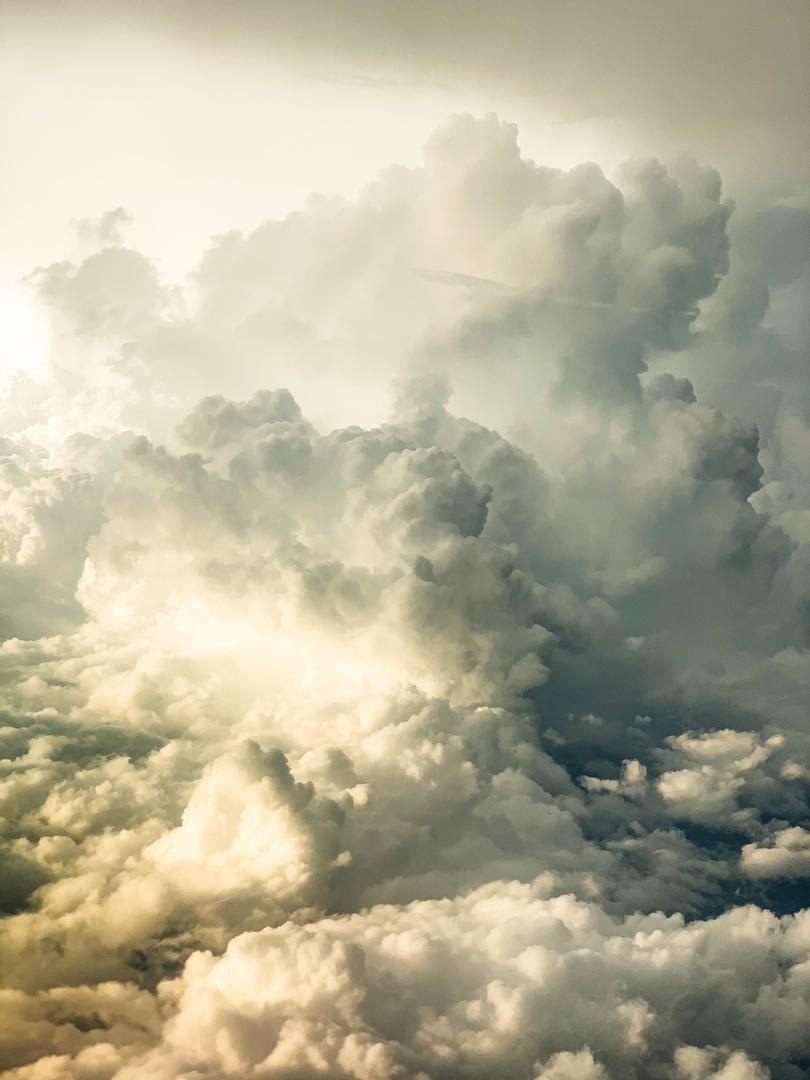 It was completely empty. We were the only plane flying through that airspace on the 5 hour flight back home. And it might have just been me, but the sky had never looked more stunning. Even the landing at KLIA was surreal, with the ocean and mountains basked in the deep red glow of sunset. 
AN ABANDONED KLIA 
We arrived at an empty airport. The only flight to arrive. 
The hallways were dark and all the shops were closed with signs stating that they would remain that way for an indefinite period. Quieter even than the times I would be at KLIA for an unearthly 1am flight. 
The police were everywhere. They told us where to go and ensured that we never strayed beyond. The Aerotrain wasn't working so we took a bus to head to the baggage reclaim area. 
On that bus, we passed by row after eerie row of planes parked outside. Have you seen those Whatsapp photos of hundreds of planes grounded at airports around the world? They are real. We saw them in Kathmandu and again at KLIA.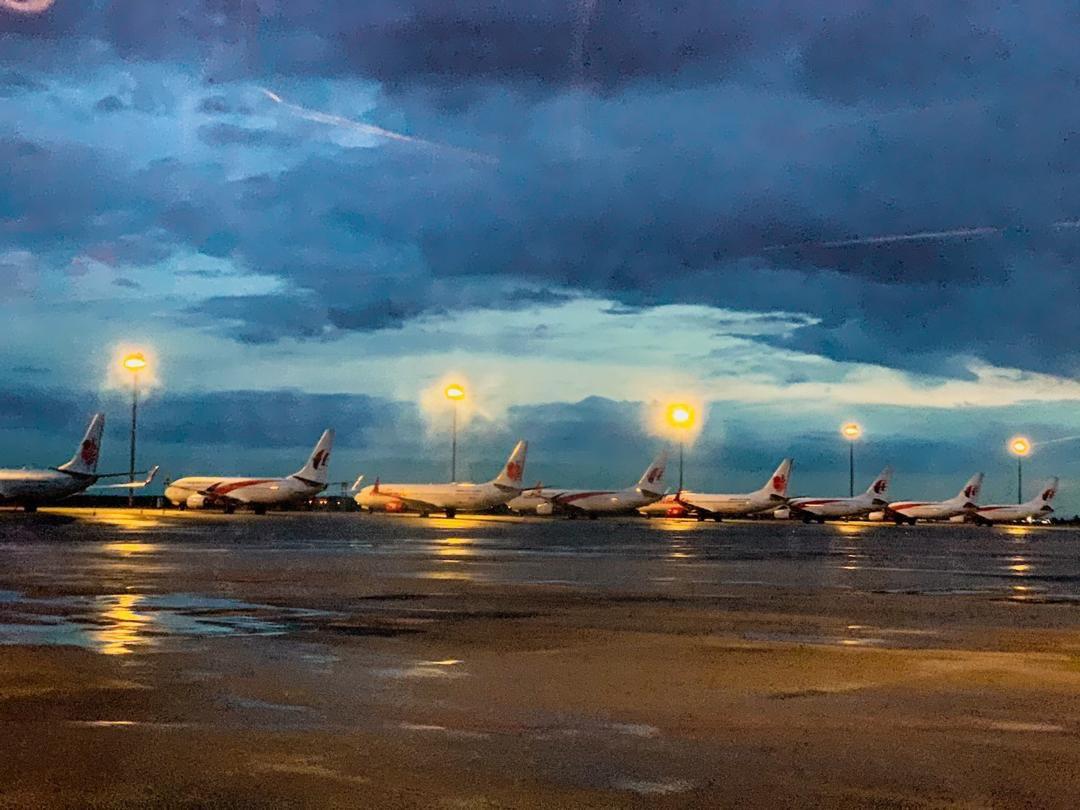 Thereafter, we went through a quick body temperature scan before we had to fill out a form declaring our health. We were then given another form by medical staff in full-fledged PPE suits as "homework": every day during our quarantine, we would have to indicate if we had a fever, difficulty breathing or cough. 
Once through immigration, our "head of household" had to complete a form with our personal details. We then had to wait. And this was where I had my first surreal encounter with the evidence of "social distancing" in the flesh: the seats had a giant yellow X marked in between to remind people to not sit together. 
We had to wait because they were allowing only 16 persons to head to baggage reclaim at one time. "Maintain 1m from each other," they said. Which was a little strange, given that we had spent the past few weeks in the mountains and in the city in Nepal in close proximity to each other. 
Once our baggage was collected, there was another waiting period before we were allowed to move to the exit. Straight to the awaiting chartered buses. Never in my life have I seen so many people from the police force, army and medical staff gathered. There was even an ambulance waiting outside! 
We were told that we would be placed in KL International Hotel and the bus journey took almost 1.5 hours even on near-deserted roads. We also had police outriders accompany us! It was 10.30pm by the time we arrived at the hotel and were made to wait for over 2 hours in the bus only to be told… that the hotel was full and we would be placed in IBIS instead.
So off we went, the police outrider leading the way. Through the empty kampung back streets, pass the numerous police checkpoints to arrive at IBIS. Each bus was emptied out slowly, again with the 1m social distancing in place. Again in a place swarming with police, army and medical personnel. Never have I ever felt so safe!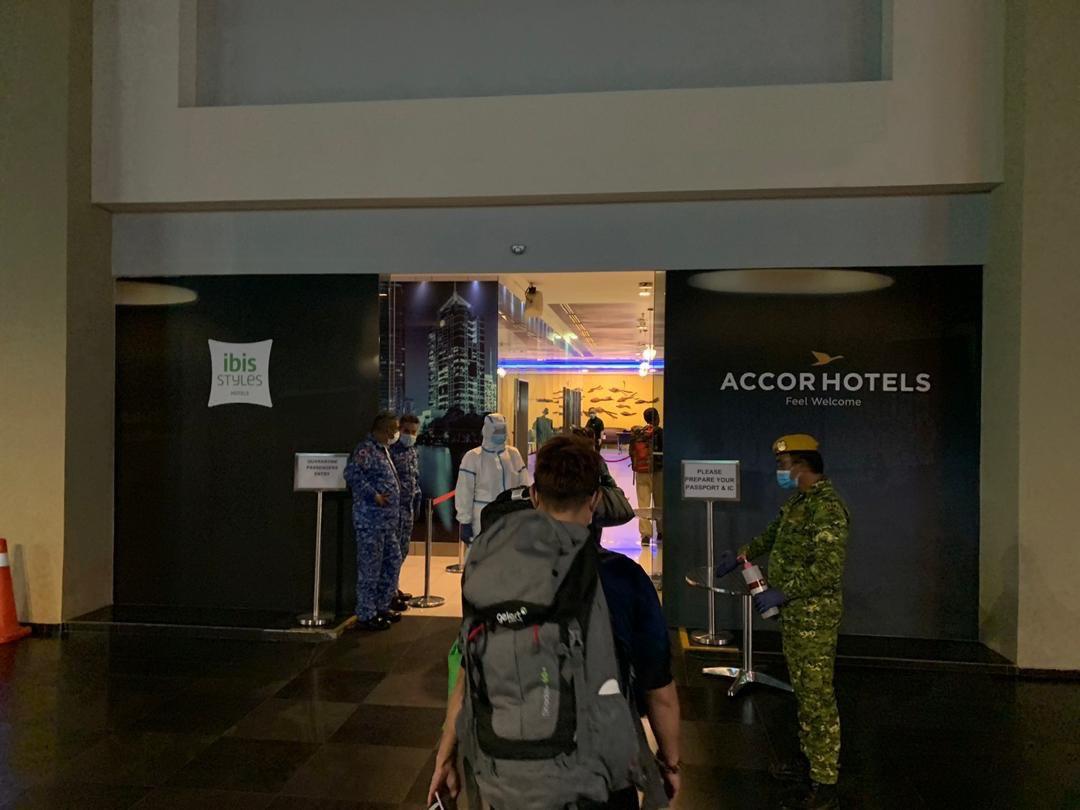 At the hotel door, a man gave us some disinfectant while another took our body temperature. We had to hand over our passport, which was photocopied, before being given a room key.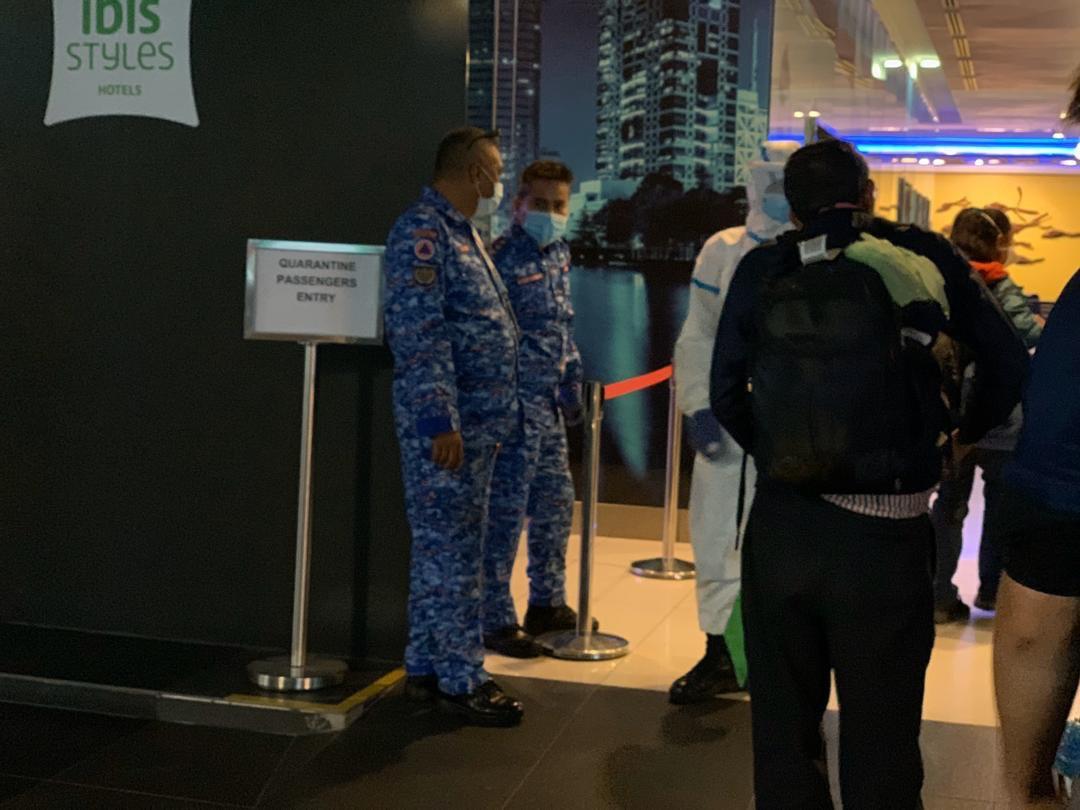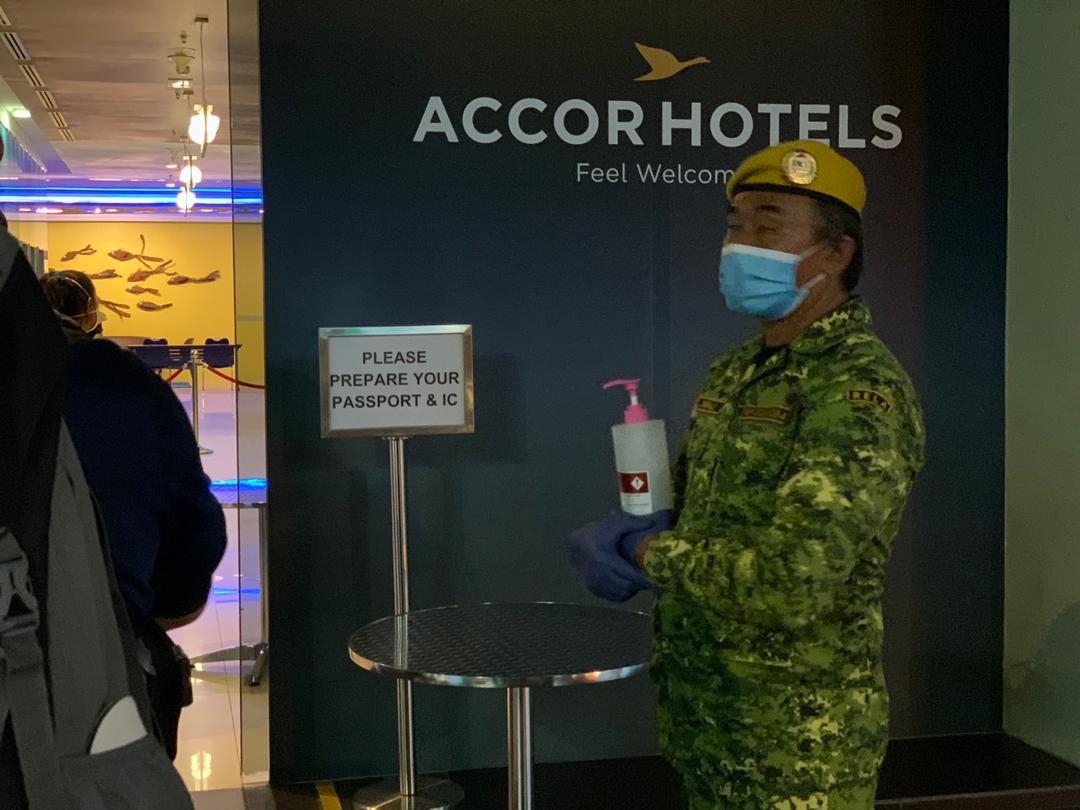 We were then told to take the lift straight to our rooms. Located on a floor that was again swarming with police, they told us to head straight to our rooms and don't. Come. Out.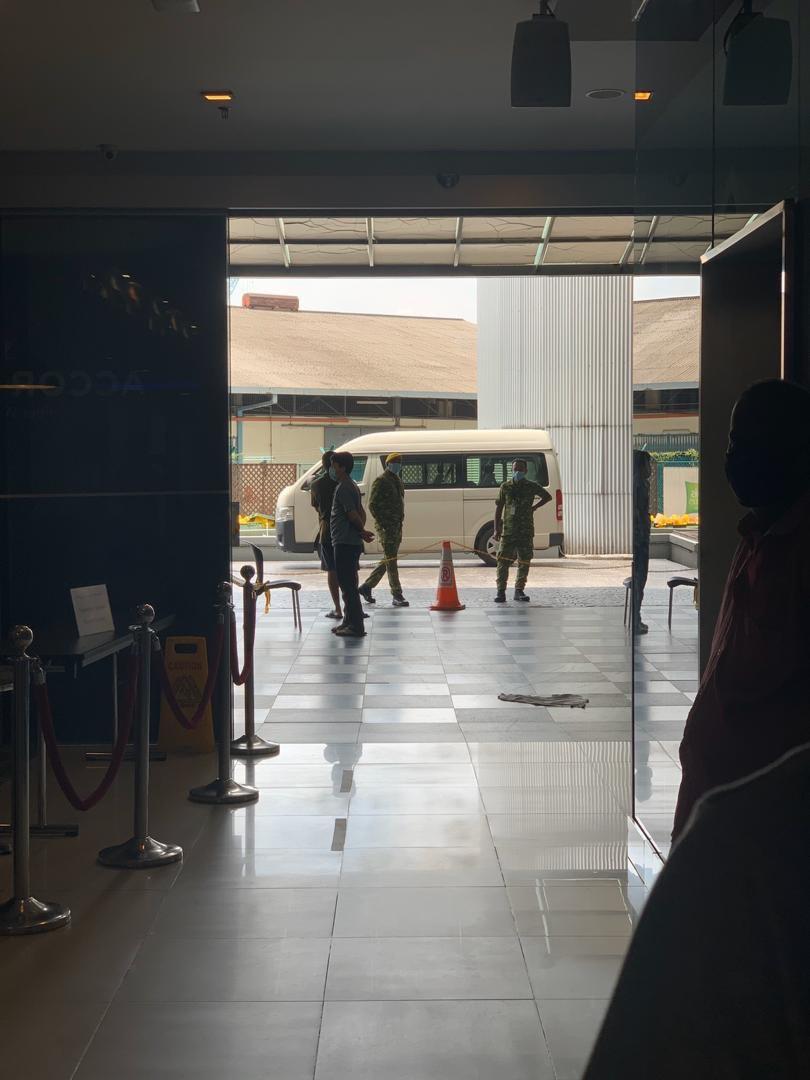 And so our 14 day quarantine began.
THE QUARANTINE LIFE
Rather than going through each day in the quarantine center, I will highlight some of the "major" events that we, as a PUS (person under surveillance), tend to go through. 
Food
Life at the quarantine center revolves around three major events: breakfast, lunch and dinner. Each meal is left outside our room before the staff rings our doorbell and RUNS! Getting well clear of us before we opened our doors to collect the food. 
I'll be honest – the food isn't anything to shout about. They tend to be the same: rice, limp vegetables, and curry of some sort.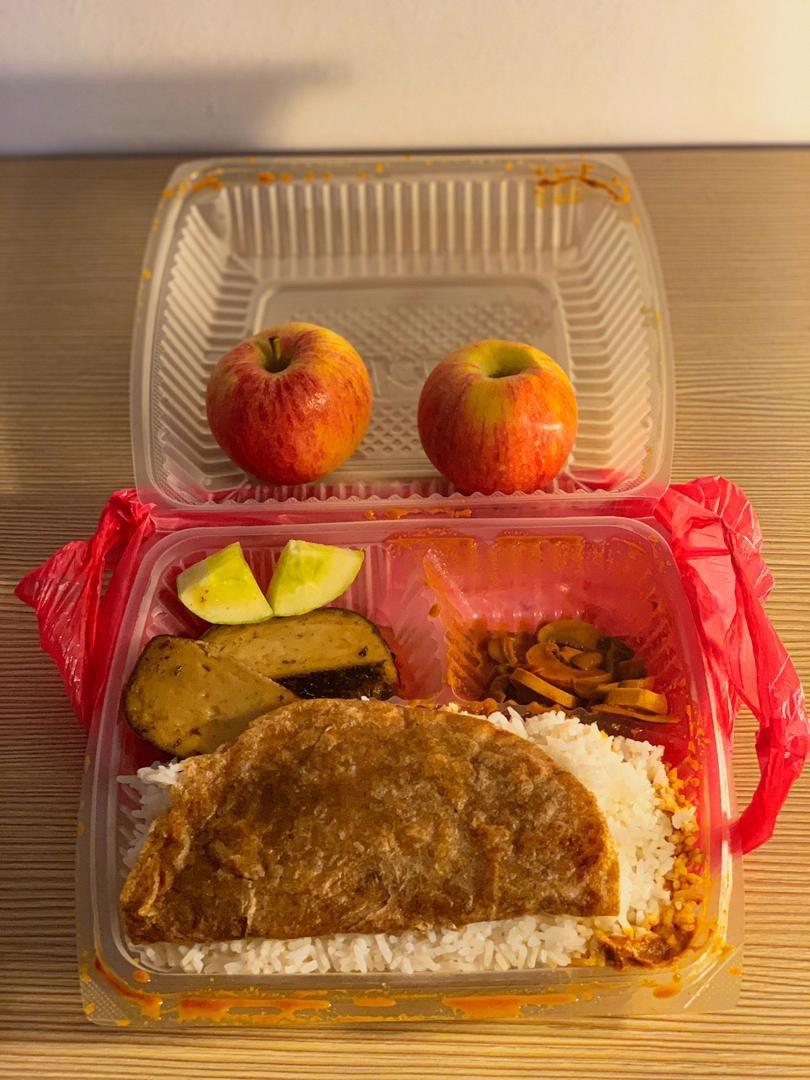 And apples – loads and loads of apples. Those are the only fruits we got so now each of us have a mini apple orchard in our room. As of Day 12, 16 apples!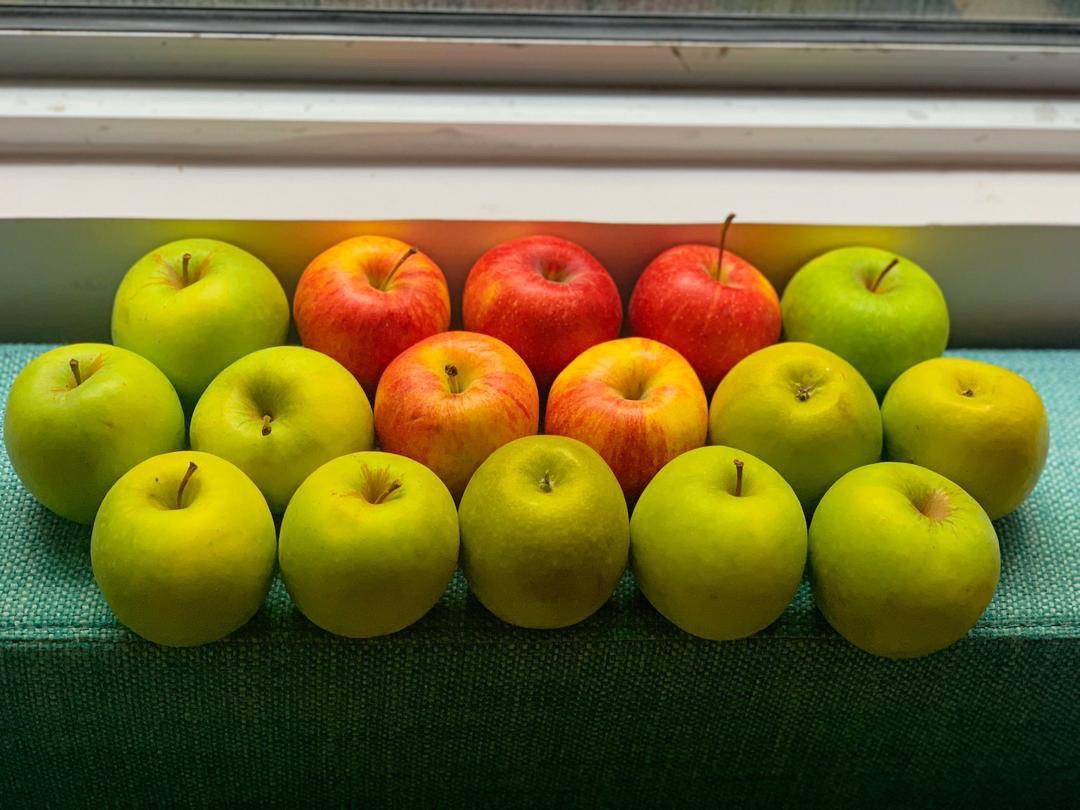 We have come to notice that the experience of every person in quarantine differs according to the quarantine center they have been placed. That difference filters down to the type of accommodation, food and service offered. 
P/S: There is a general ban on all external cooked / home cooked food being delivered to quarantine centers.
Health Screenings (aka jailbreak!)
Health screenings are the only times we get to leave our rooms. It happened once in the initial days of quarantine and again on Day 11.
On the day of our scheduled health screening, a person in a PPE suit rang our bells before giving us our sample number. We then lined up to take the lift down, 4 persons per lift at each time.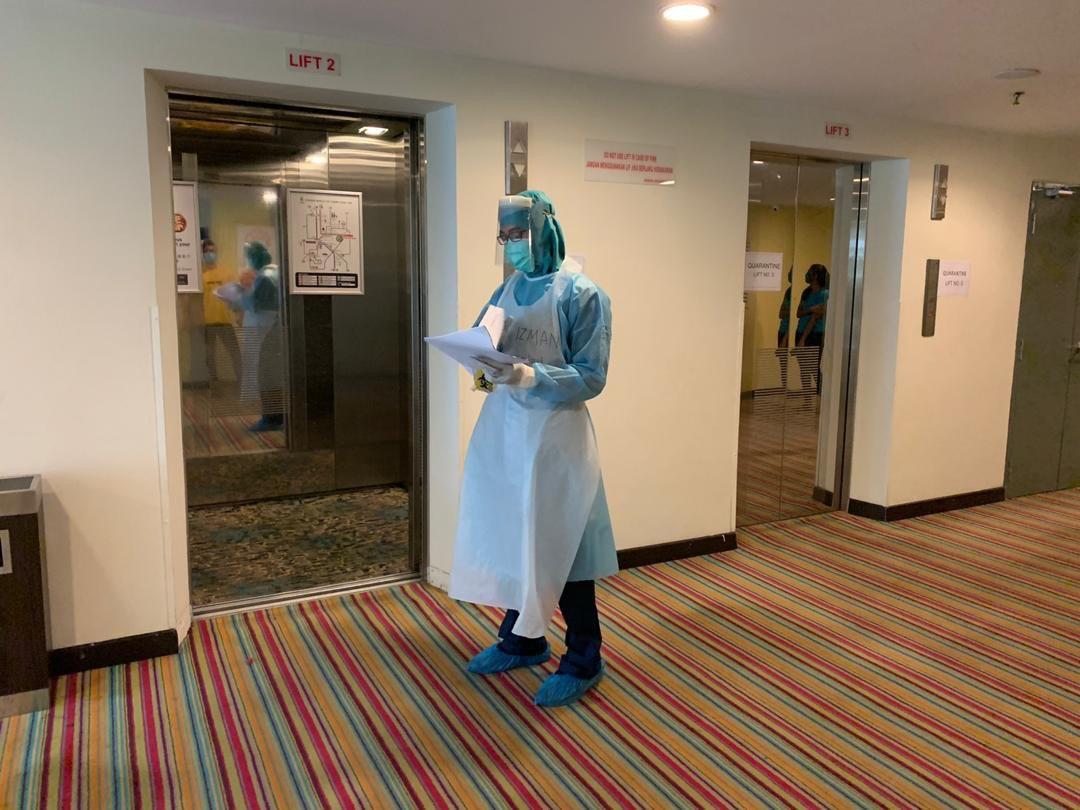 Once at the ground floor, we lined up for our dreaded… nose swab. Which honestly is one of the most unpleasant, even painful, experiences I've been through. The experience is akin to having a very long, thin stick being stuck down your nostril so far it hits the back of your throat before it is then swirled around several times and extracted. 
This testing has to be done twice to try to reduce the amount of false negative results obtained. The test results tend to take around 3 days to process but because of the massive backlog, the results tend to take a while. 
This is significant given that our second test only occurred on Day 11. All PUS will have to stay for however long it takes to get our results, even if it is after the mandatory 14 day quarantine period, before being allowed to either go home or be sent straight to the hospital (if tested positive).
Special Deliveries & Care Packages
All deliveries are sent together with our meals. 
The government has been active in giving us all kinds of "surprise" deliveries. Everything from stick-on thermometers, a potent hand sanitiser, hand sanitiser and hygiene products to a numbers game for our "mental health"! 
Then there are the care packages. Items that can be delivered by friends & family after first passing through a stringent check at the reception. The first care package that Wan Xin and I got was from Rebekah and Joshua – thank you both! We were beyond thrilled!! The snacks, the colgate, shampoo and glorious conditioner. And then a laptop from YTL Creative Communications, without which any "Work From Home" would have been impossible.
At last, we could feel a little more human. 
Dalgona Coffee, Bubble Tea & More
There is something about being stuck 24/7 in a room for 2 weeks. It makes you do things you won't otherwise be doing. 
In my case, it was to liven things up by trying to "cook" things only with the things provided in our quarantine hotel room, i.e. a kettle. The first experiment was to make hojicha bubble tea, which shockingly enough worked like a charm and tasted just like the real thing! See: https://www.instagram.com/p/B-y-bO6hTmN/
Next up, Dalgona coffee. A South Korean drink that has swept the world since COVID-19. But only through the use of the coffee & sugar sachets provided by the hotel: https://www.instagram.com/tv/B-48SK0hJrb/ Again a surprisingly successful experiment, so much that a mini Dalgona coffee making wave swept through the quarantine center as everyone started making their own Dalgona coffee!
When you're confined to a room, you have to make do with what you have been given. 
Conclusion
This world, this country, is not the one we knew when we left for Kathmandu on March 11th. And this adventure has been so much longer and more exciting than anticipated. 
I have been impacted by the people I've met, from the resilience of the porters carrying 30kgs over 150km up to Everest Base Camp down to the kindness of strangers in bringing us home via shuttered airports. To the days spent among the clouds, accompanied by some of the tallest mountains in the world, and ventured so far up that even the trees and everything green can no longer grow. Where yak poo is used as fuel, and yaks graze outside where you might commonly find sheep. And finally, to being rescued by a white horse and flown through the snow-capped Himalayan mountains on a helicopter all the way back down to Kathmandu.
But do you know what I would love to have as my next adventure?
To experience what it's like to be under MCO at home! It's been over a month. It's time to go home. 😉