by Caryl Teh
Many of us don't have to worry about where our next meal will come from, but not everyone is similarly blessed. Today we have the honour of sharing a story about the serious lack of food in Perak that birthed a beautiful narrative of human kindness. This is the story of YTL Cement's donation to the Perak Food Bank.
The Resource Problem
Food availability is not equal in every Perak community. For some families, nourishment is a constant worry. And this was worsened by the COVID-19 pandemic. 
Yet on the other end of the spectrum, in 2016, the Food Aid Foundation reported that Malaysians wasted 15,000 tonnes of food, including 3,000 tonnes of edible food, every day! A huge part of that wastage is not from domestic houses, but rather comes of a surplus of food in hypermarkets & supermarkets. These resources could be managed much more efficiently.
An Organisation that is Trying to Make a Difference
The Perak Food Bank is the brainchild of Datin Seri Dr. Nomee Ashikin binti Dato' Mohammed  Radzi. It is a non-profit NGO in Kinta, Perak, that was established just over a year ago. The Perak Food Bank aims to provide sustainable food security for the people of Perak by organising food distributions to channel surplus food towards targeted vulnerable groups and individuals. 
When the COVID-19 pandemic further negatively impacted certain groups of people, they felt an urgency to send immediate assistance to those in need in an effort to curb hunger and malnutrition problems. But to extend the reach of their cause, they needed more financial support.
YTL Cement Makes a Donation
That's where YTL Cement entered the picture. YTL Cement has always been passionate about improving people's lives & livelihoods. So reducing wastage, helping sellers save cost and assisting communities who need it most are directly in line with their purpose-driven vision. With this in mind, YTL Cement presented a substantial donation of almost RM650,000 to the Perak Food Bank.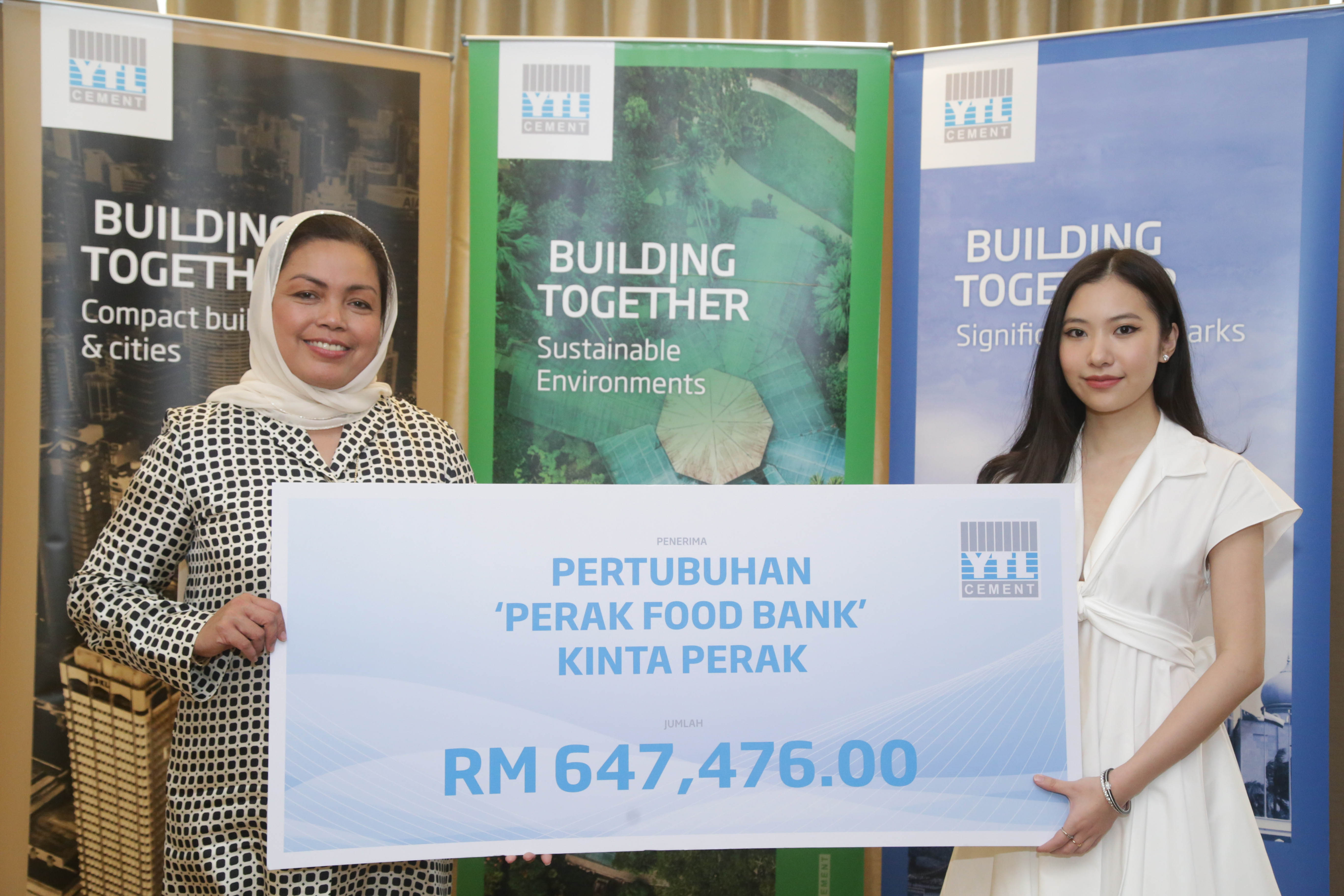 Datin Seri Dr. Nomee Ashikin binti Dato' Mohammed Radzi (L) receiving a mock cheque from Rachel Yeoh (R) for YTL Cement's contribution to Perak Food Bank
Beauty from a Storm
People often think that corporate social responsibility is just about trying to create a good company image. But it's much more than that – it's a clear way for a company to share their heart that truly cares for those who are struggling, and trying to close that gap using the most effective & efficient channels. It's about paying it forward.