by Shameera Nair Lin
YTL now has an online store!
"What?", you say… "an online store?". "Whatever for?"
Before you get excited and start making your personal purchases online (we do have pretty cool stuff!), we need to explain how and why ByYTL came to fruition and how it will benefit all of us in the Group.
It may resemble your run-of-the-mill online store, but there is more to it than meets the eye.
The story began sometime in 2016.
Company merchandise had been around for a while at this stage, purchased by various companies and departments for both internal and external events. If you've been around in the Group for a while, you may have noticed the occasional YTL mug or pen. A closer look at these products may have revealed strange inconsistencies in the logos and colours used. Sometimes, one could come across a distorted and poorly scaled logo!
This situation appeared to be in need of reshaping when the Group went into a rebranding exercise in 2016. Rebranding meant maintaining consistency and brand compliance across the board, which would similarly affect merchandise, company-related items that were being distributed to staff (yes, you are all YTL brand ambassadors!) as well as external parties. (find out Why Branding Matters)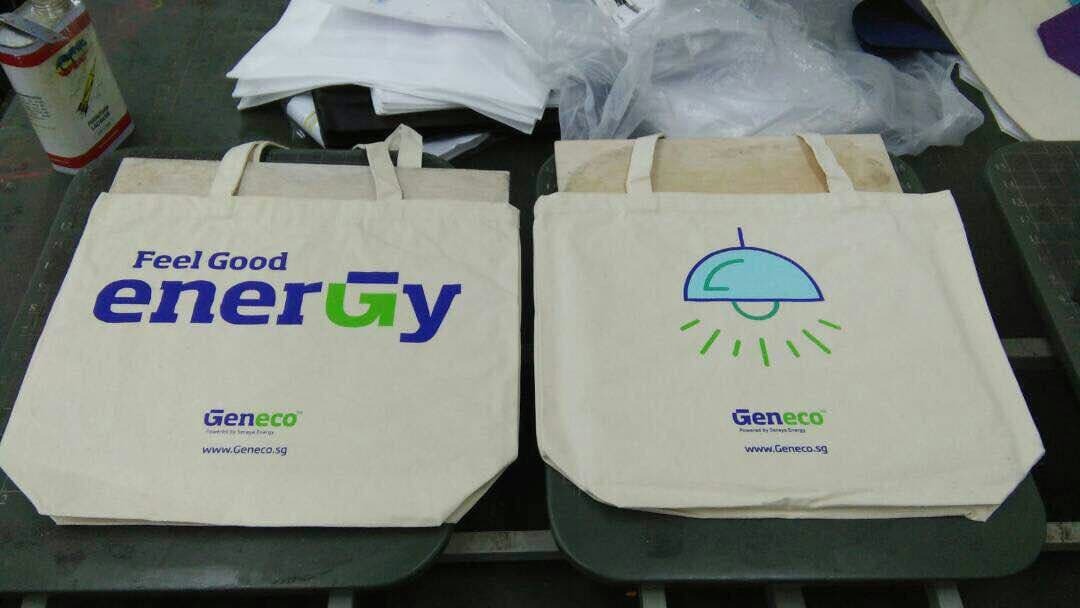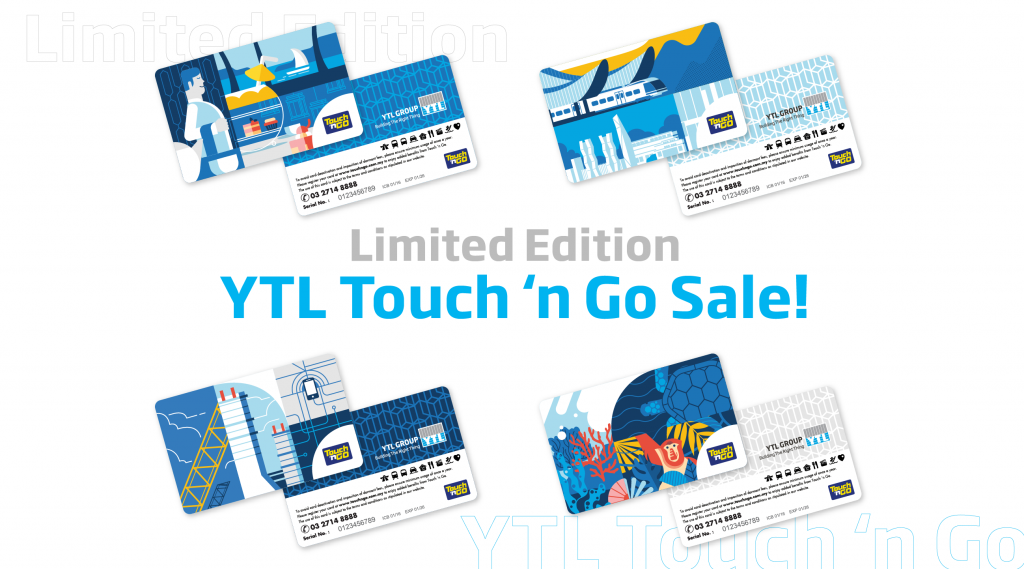 Previous merchandise offerings include customised tote bags made for Geneco Singapore as well as limited edition YTL Touch 'n Go cards. On top of current designs, ByYTL offers customised merchandising services in bulk.
As such, it was only natural for the department in charge of brand compliance to take this on under their auspices, to ensure a centralised consistency. For the past few years the team has been working closely with various departments like Purchasing, Finance and Logistics within the Group to source merchandise for internal Group events, an exercise that has been a learning curve. Ensuring the products purchased met the Groups brand compliance proved challenging at times, but not impossible.
A further test proved successful, functioning as a subtle announcement of the availability of brand compliant Group merchandise. Over the last two Leadership Conferences, the market for such products was tested through physical stores offering a range of YTL Group products.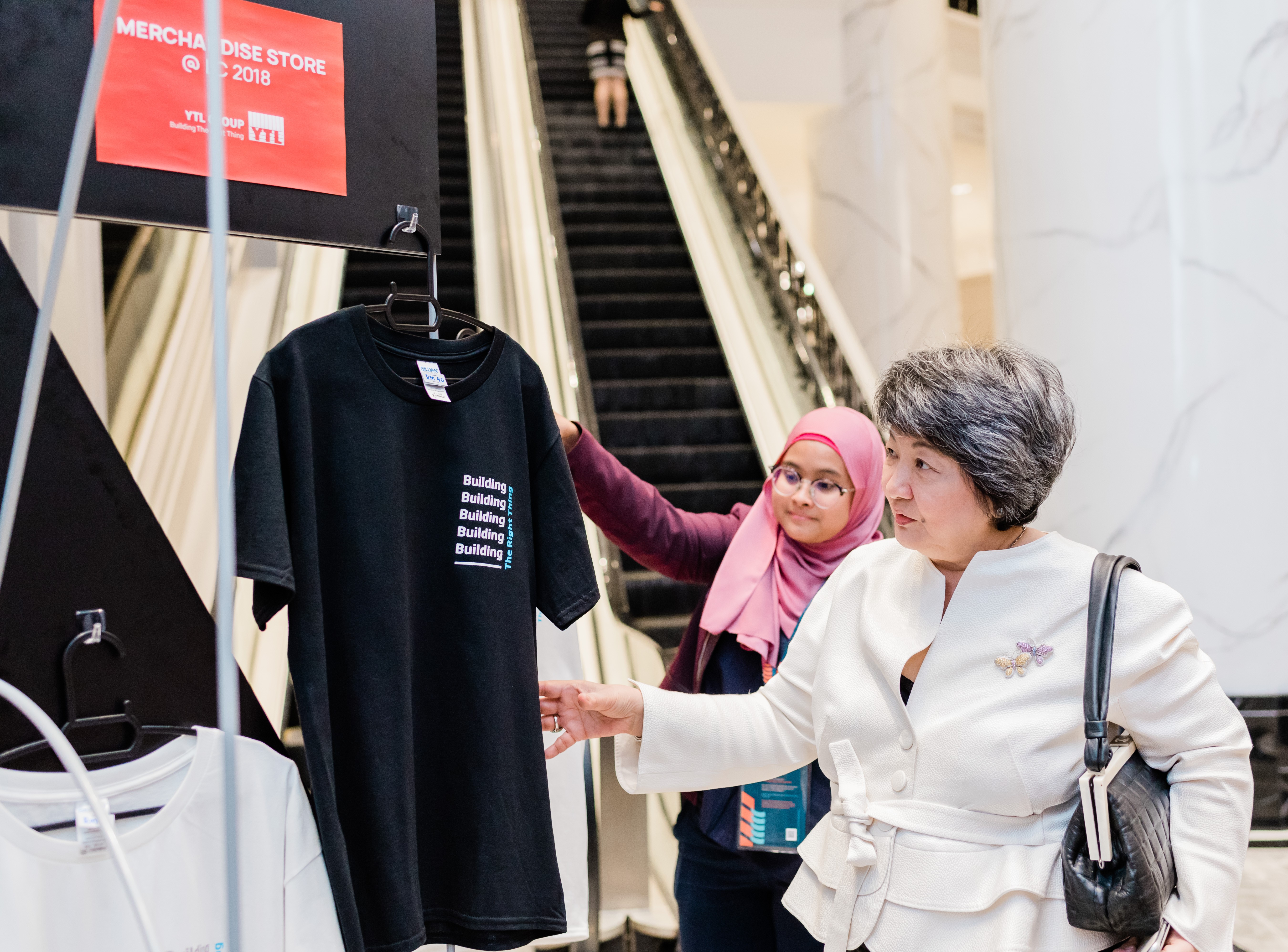 The LEAD 2018 merchandise booth, which proved to be a strong success.
While there were many individual purchases, the realisation of the availability of merchandise which carried the Group's logo and branding proved successful, with more requests streaming in. Companies realised that there was a 'centre' they could rely on to arrange the sourcing of specific merchandise, coupled with attractive designs that would meet the strict brand compliance requirements of the Group.
From then on, ByYTL started coming to life. The store is a product of practicality. Apart from catering to the Group's appetite for brand compliant merchandise, there now exists a centralised platform where ideation, sourcing and design can be achieved cohesively. Minimal fuss will go into ensuring that all orders — bulk and individual — are catered to. Ultimately, unified branding across the Group and wider accessibility are the driving factors behind the store.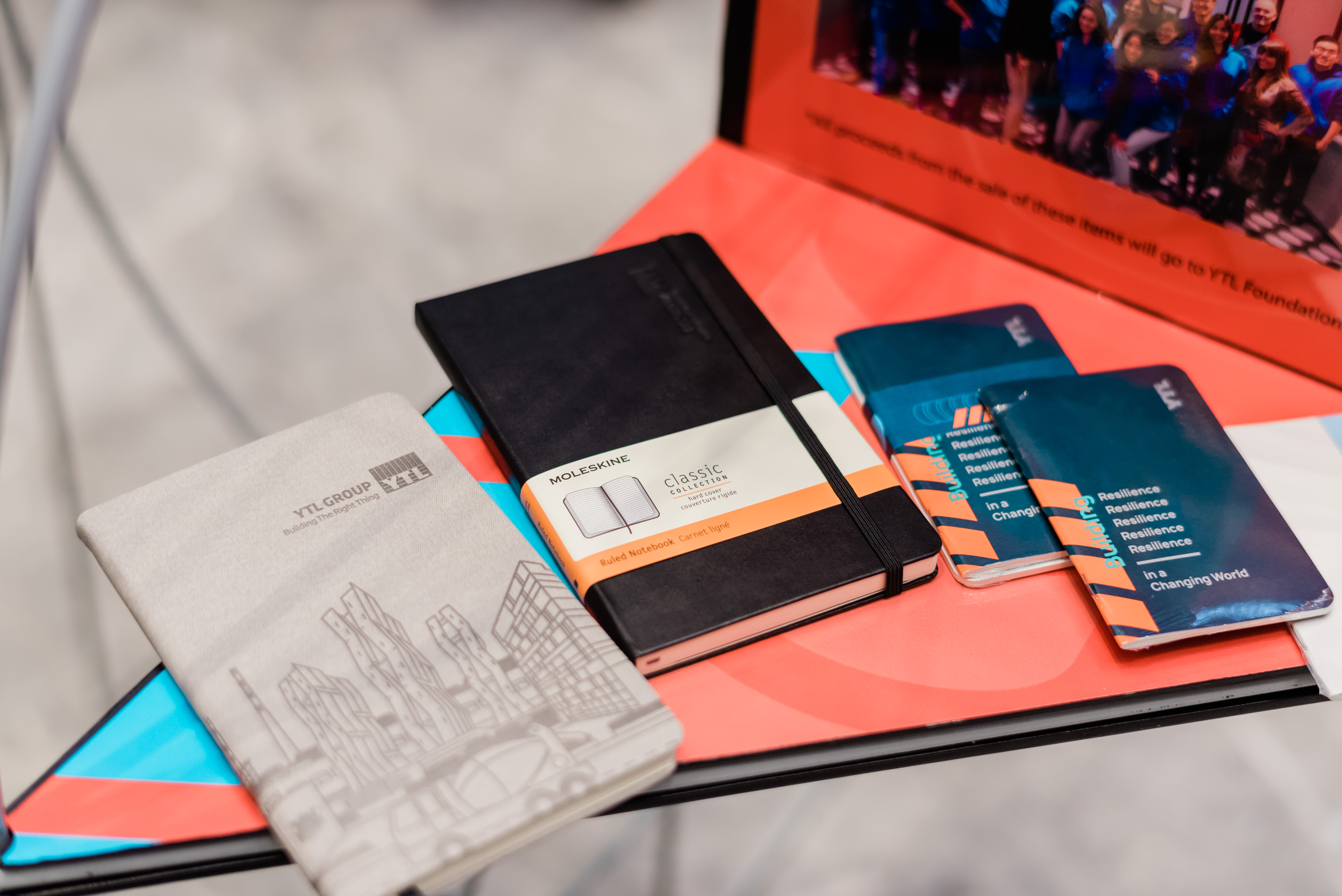 Customised YTL Moleskine and Mossery notebooks, with a rebranded aesthetic.
A collaboration with an artisan from Kg. Sion, Agnes, the founder of Bags of Love: woven, handcrafted bags, sold to support her family.
In the meantime, ByYTL showcases products that will inspire both individuals and companies to make quick purchases. A wide array of products are presently in the works, with 24 items currently on offer. Classic favourites are available, such as the best-selling multi-pocketed name tag holder and the YTL cable charger, which comes with three types of ports: USB-C, Lightning and Micro USB.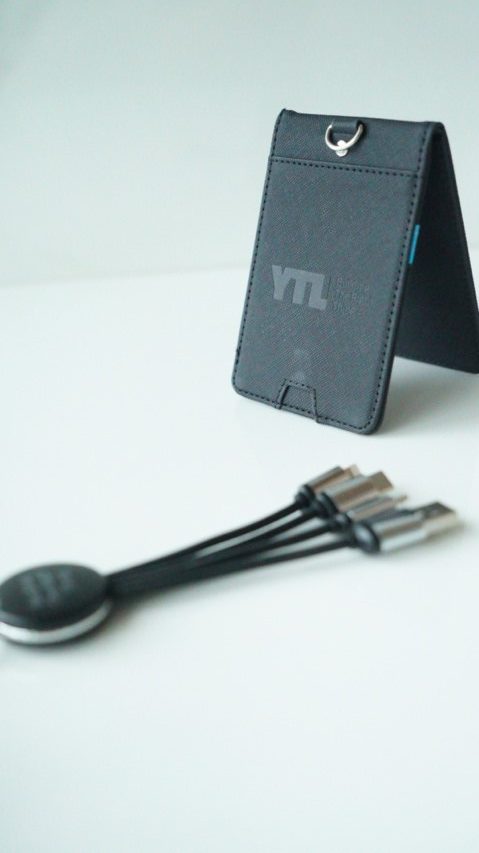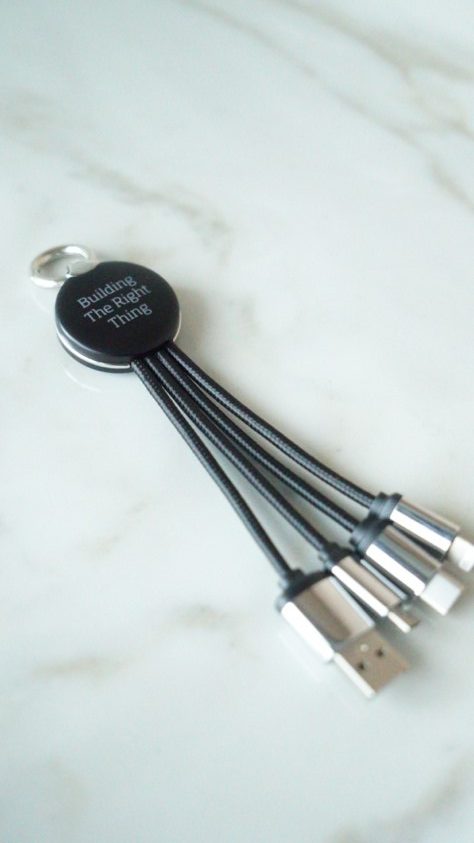 Don't miss out on these office essentials, which will keep you powered up and ready to go during the workday.
To commemorate the store's launch, we have also ventured into a joint collaboration with Cantina. Do your part for the environment, save yourself from potential spillage as well as RM0.50 on each beverage purchased at Cantina when you use the YTL x Cantina coffee cup (ask Rex or Hanna if you can take a closer look at these cups that are displayed on their shelves!). Other collaborations are in the works and will be announced in due course.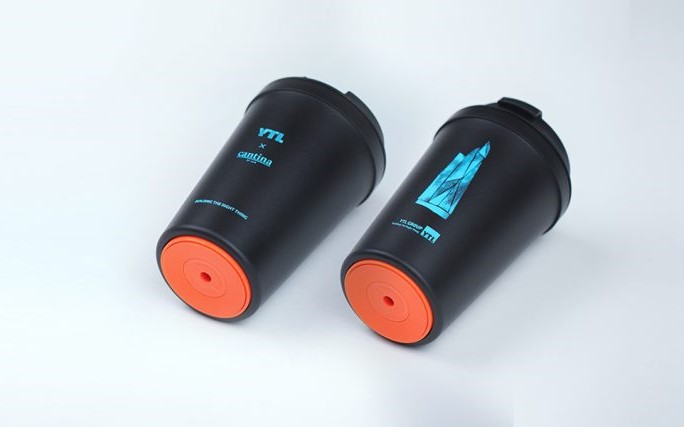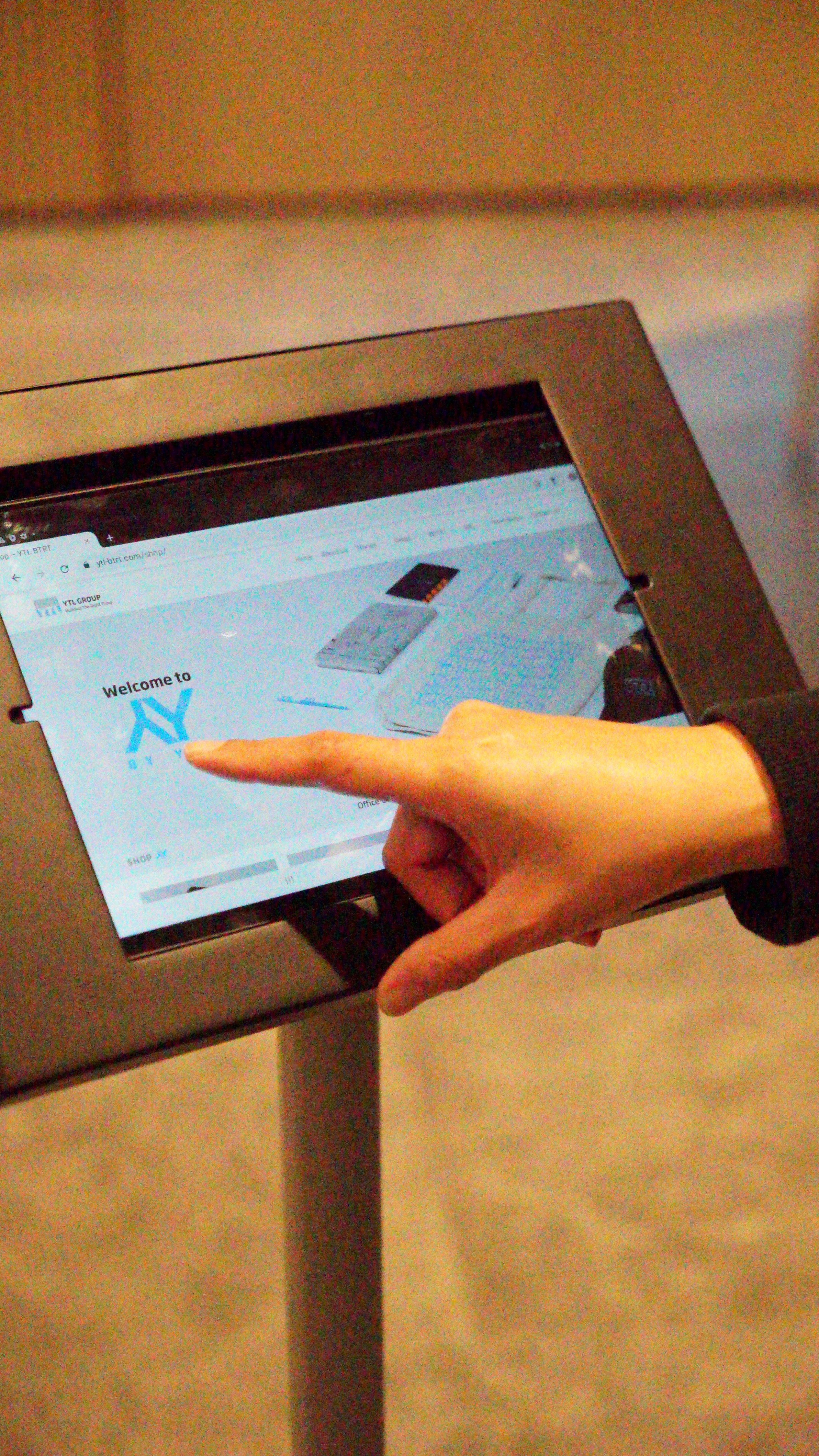 Head over to our kiosk within Cantina to get your new YTL x Cantina coffee mug, at the touch of your fingertips.
While there are set items currently available on the online store, By YTL welcomes suggestions and will tailor the store to fit what you are looking for, step by step. The possibilities are endless, and we would very much like to hear from you. It is By YTL's vision that this move will ease the bulk purchasing of brand compliant company merchandise for all, as well as opening up the possibility of owning YTL merchandise to all, at competitive rates, working with the purchasing power of the Group as an entity. Today, we launch a journey of exploration.